INTRO: My hangout is a box. I use my imagination to make my hangout 'work.' It's lots of fun. It's from the future.

Welcome to my hangout :). Take a look around. See you soon!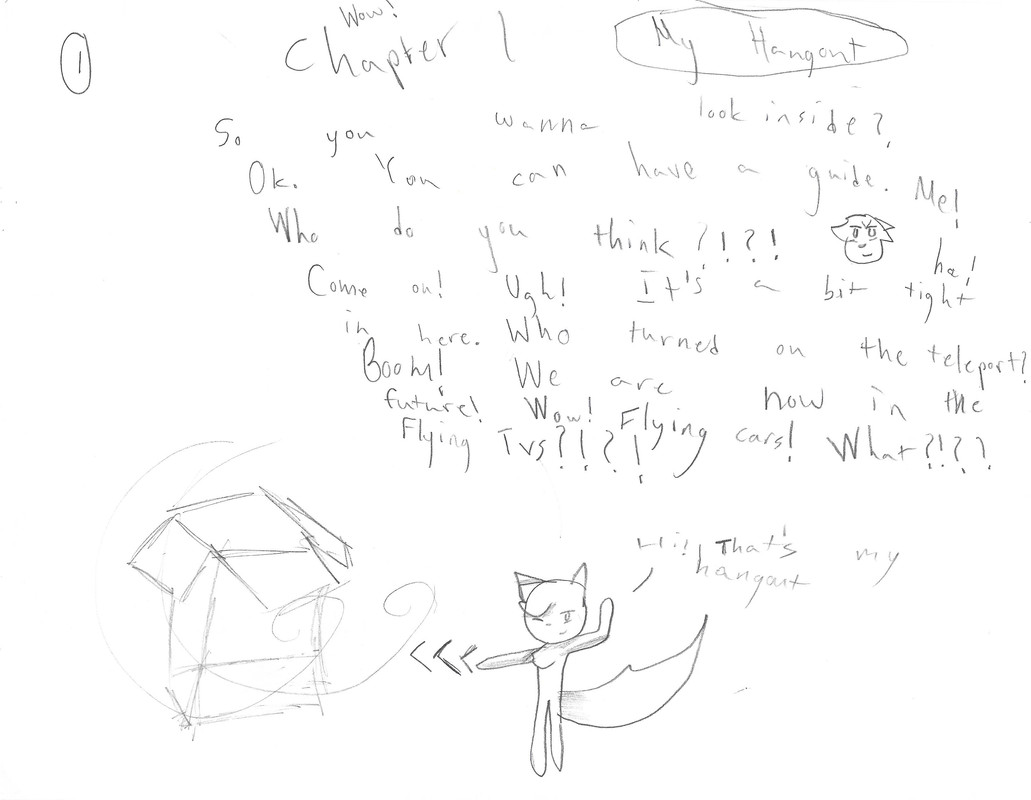 Chapter 1: My Hangout
Hi! That's my hangout! (Our narrator indicates a tall box to her left).

So, you wanna look inside? Okay. You can have a guide. Me! Come on! Ugh! It's a bit tight in here. Who turned on the teleport?

BOOM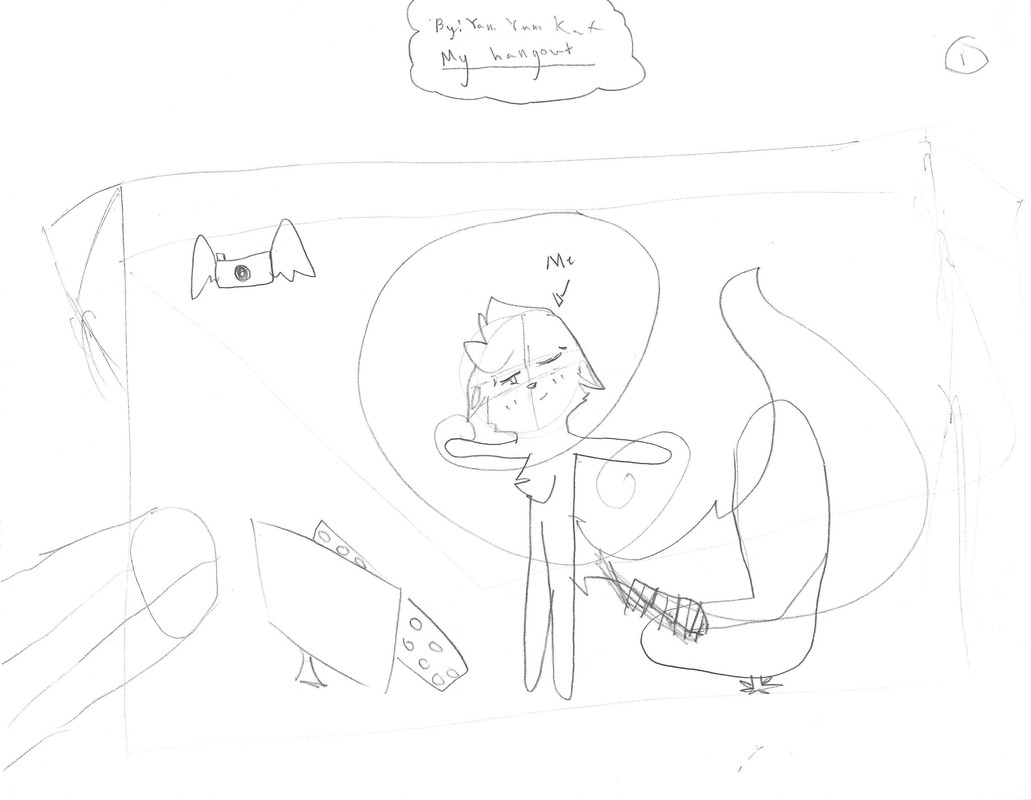 We are now in the future! Wow! Flying cars! What?!?! Flying TVs?!?!


Wow!!!
This is EPIC!
Flying cars!
Flying cameras!
What?!!?
Robots!!!

All of this technology! Wow!!!


Chapter 2

Bye future!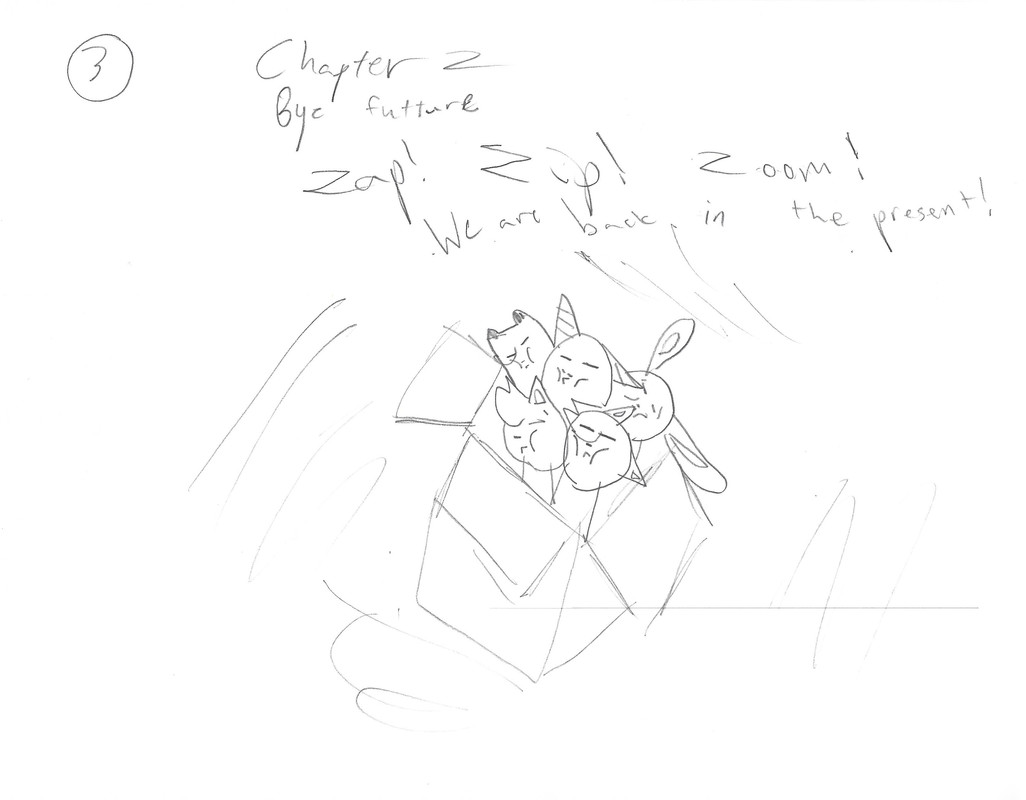 Zap! Zip! Zoom!

We are back in the present!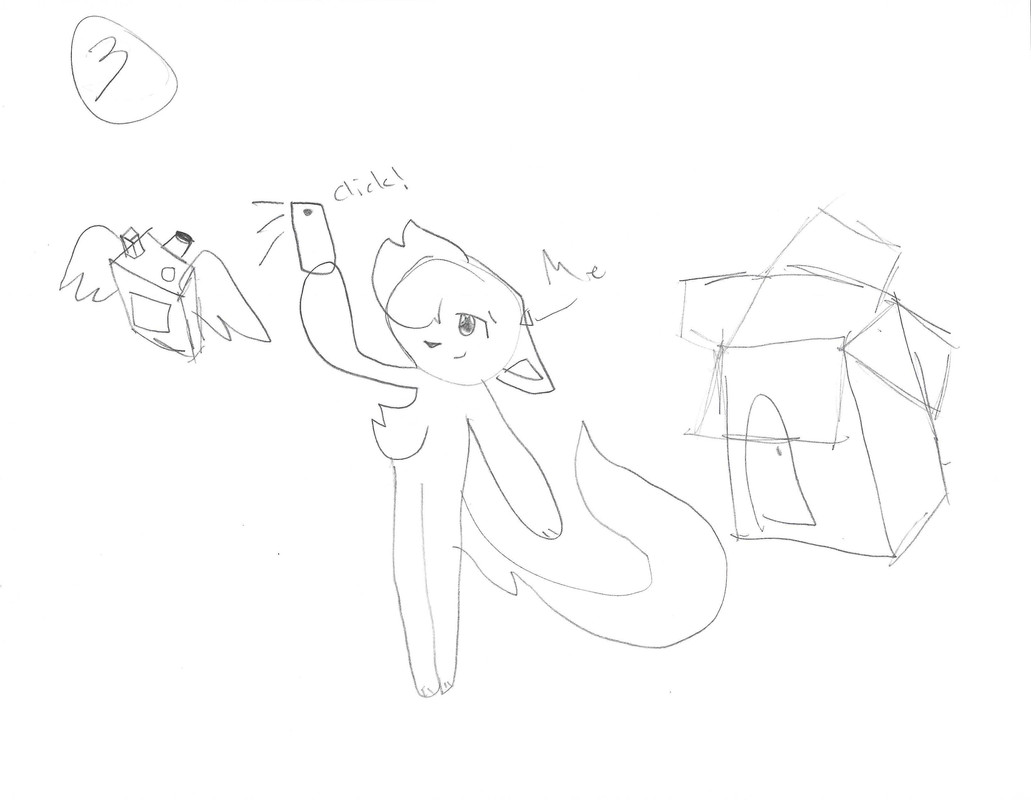 Chapter 3

Cloudy with a chance of animals!

Soft fluff....!
WHAT!?!?
Fluffy CLOUDS!!!!
Wow! Soft... Zzzzzzzzzzzzzz

Eh? Ok.

Hmmph, I'm up.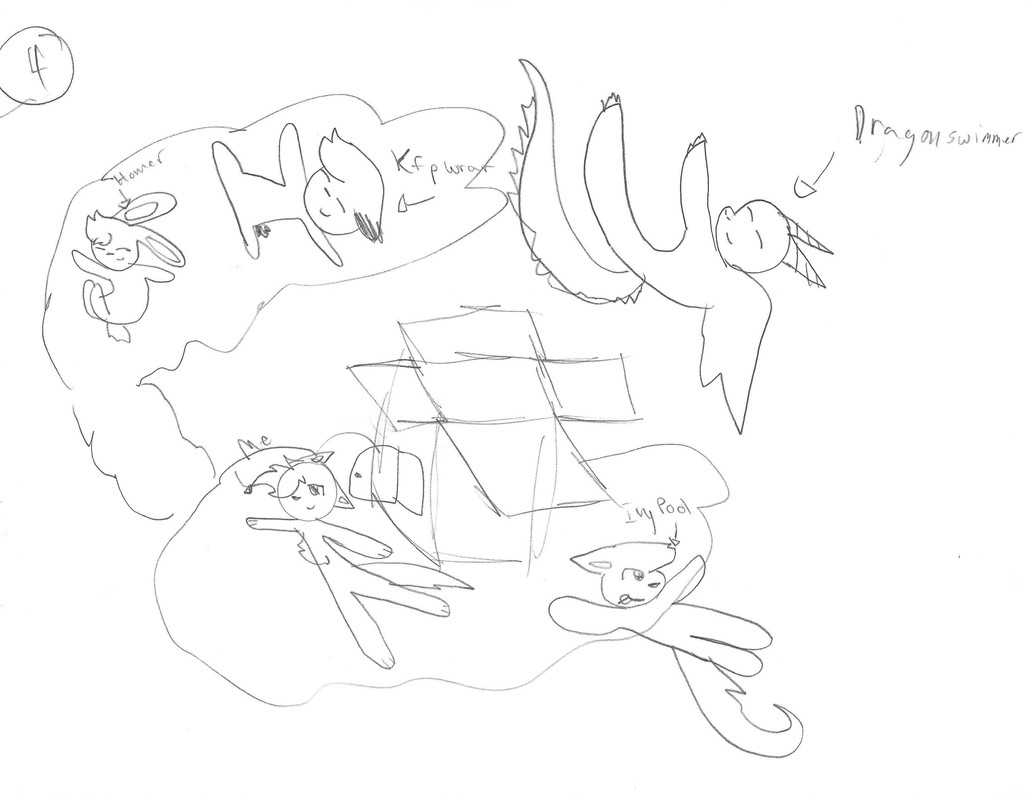 Zip! Zap! Zoom!
BOOM!
We are home!

Thank you for coming! See you again soon!

My hangout box is the best thing to play with and use.

The end.


Dedicated to: *
therealljidol
*My family
*All kids and grownups with imagination
*And
ivy_pool,
dragonswimmer,
kfp_rawr, and Homer (over at
ellison's journal).

Thank you!


NOTES by
favoritebean: These mini poems throughout this story were inspired by a piece recently premiered called "On(a)matopoeia" by composer Jaco Wong. The lyrics in Mr. Wong's composition were written by a young poet named Ona Musoll-Buendia, who is currently in sixth grade. "On(a)matopoeia" recently premiered, so unfortunately, there is no recording to share just yet. Stay tuned.

I decided to place some pictures without captions in the story above, but you can read everything in its original format below the cut. Captions are included.

Thank you for reading.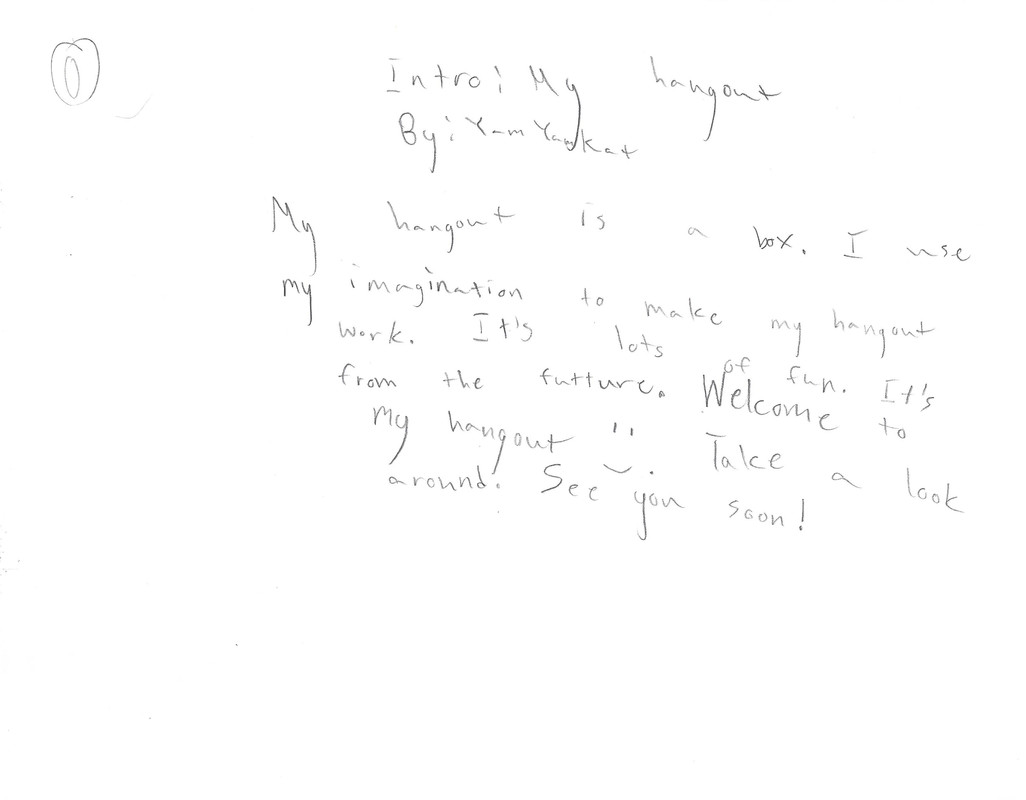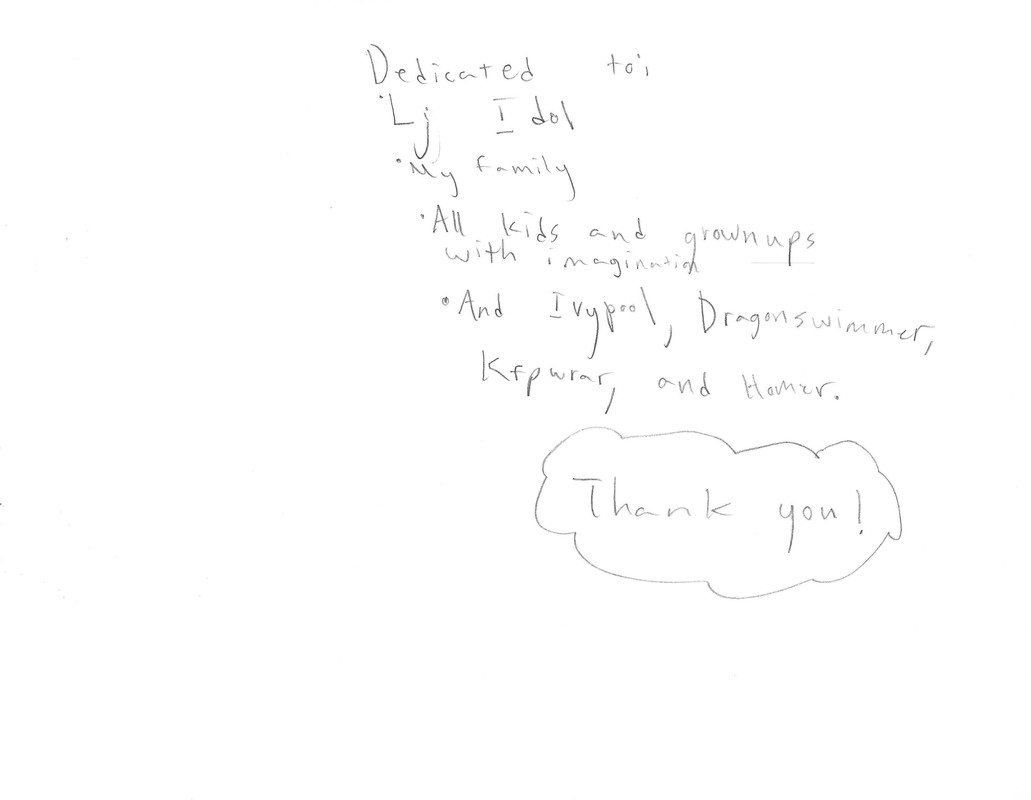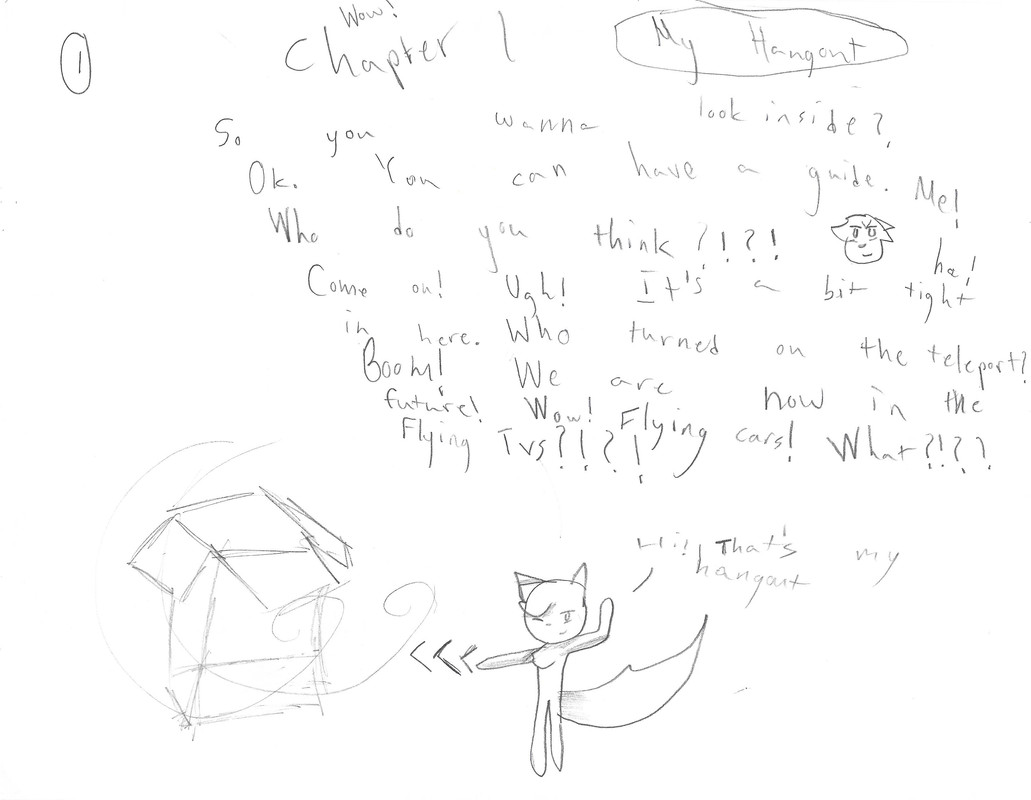 Caption:
Our narrator shows readers her fabulous "hangout" cube which resides in her bedroom. Not pictured, toys left collecting dust. To be fair, this hangout cube is awesome.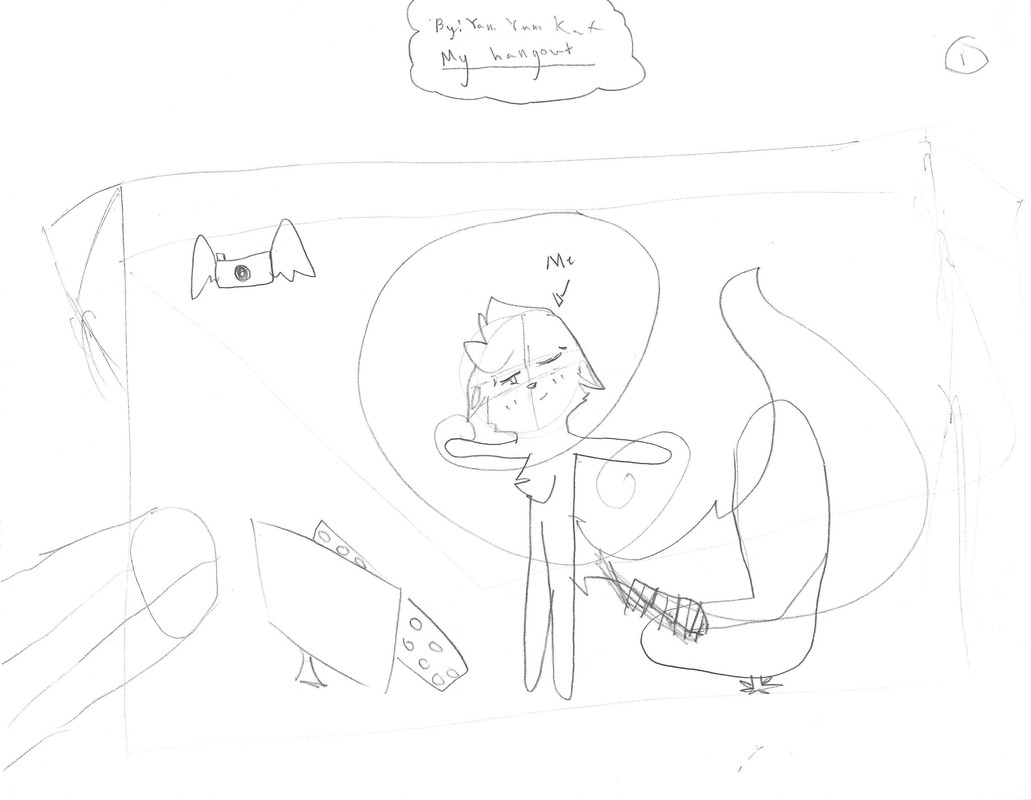 Caption:
Our narrator stands in her hangout box. To the right is her command chair. To her left, a keyboard and monitor. Above and to the left, we see a camera with wings hovering about.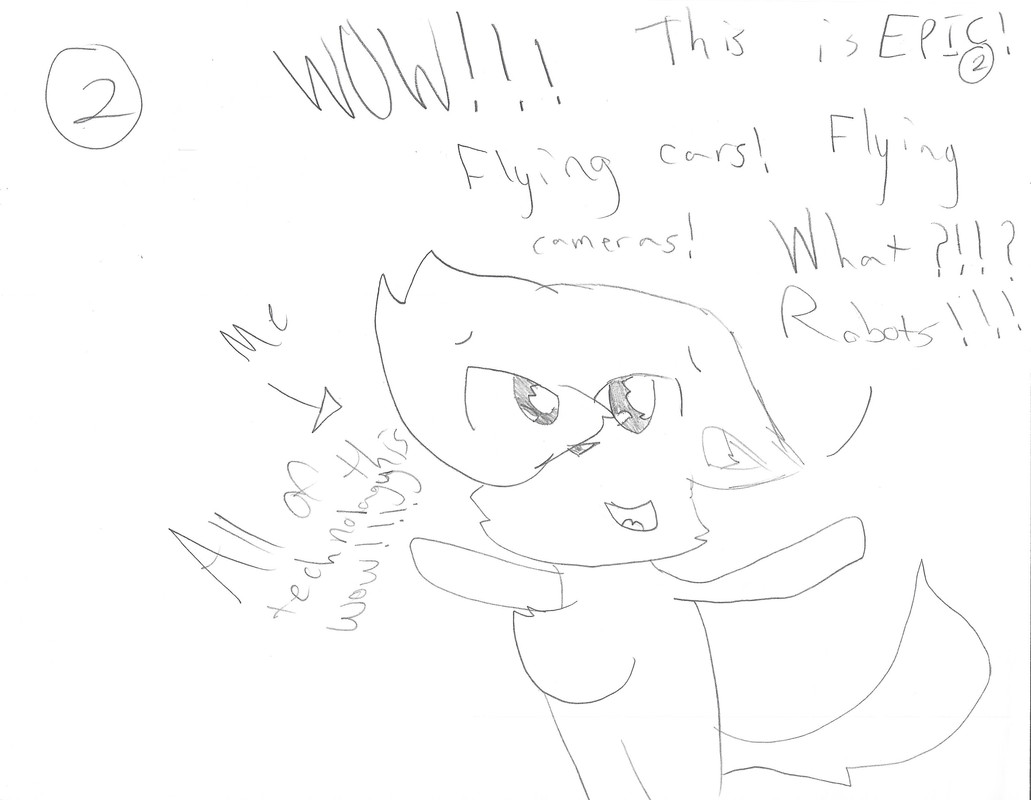 Caption:
Our narrator is very excited about what she sees in the future.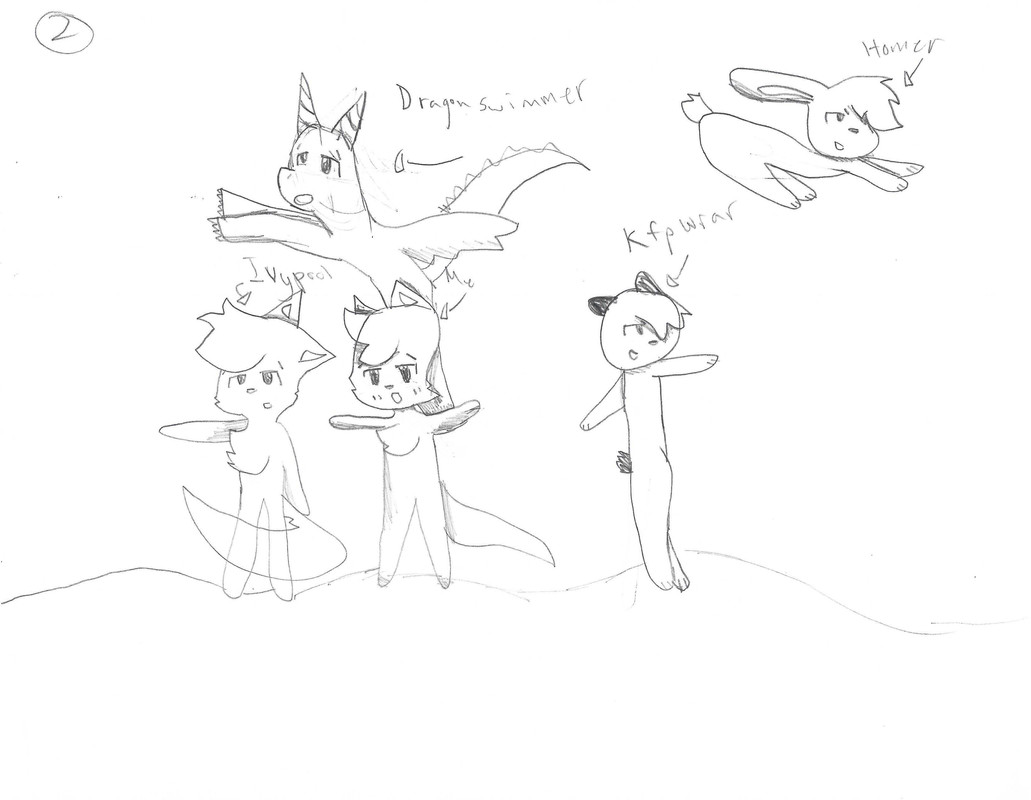 Caption:
yamyam_kat stands with other Idol Minor contestants. Depicted clockwise from top: Dragonswimmer, Homer, Kfp_rawr, and Ivy_pool. The other contestants seem to be excited about the future too.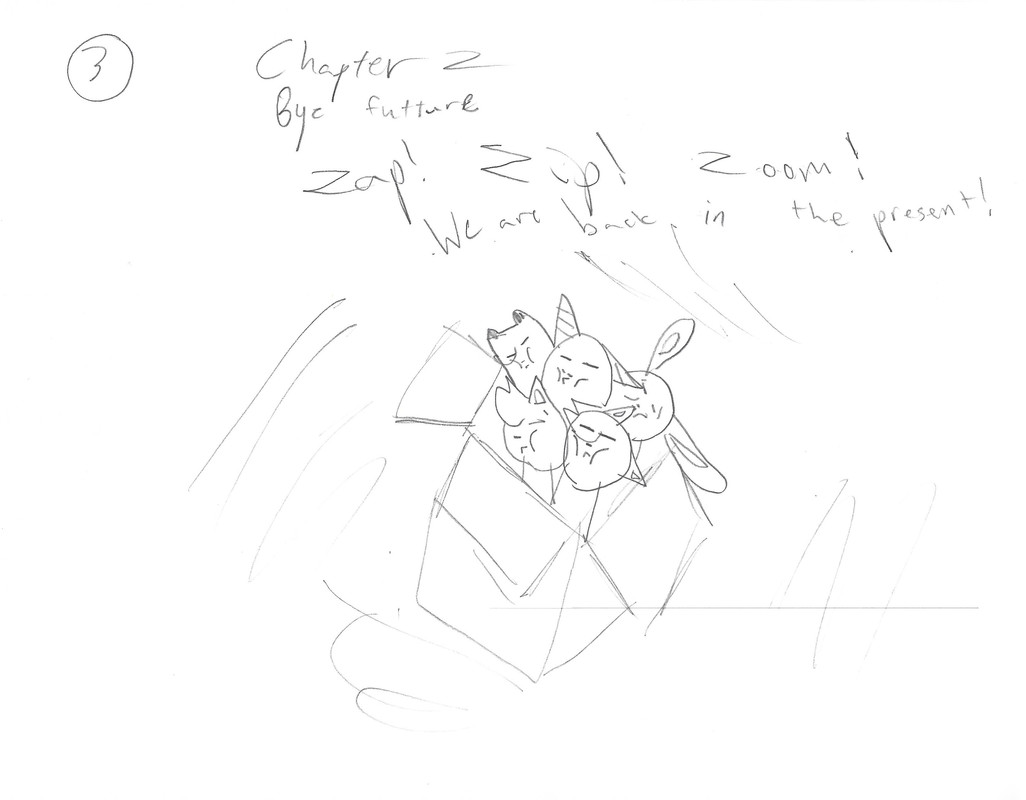 Caption:
Our Idol Minor contestants zip through the fabric of time and space to the present. It looks like a rather bumpy ride!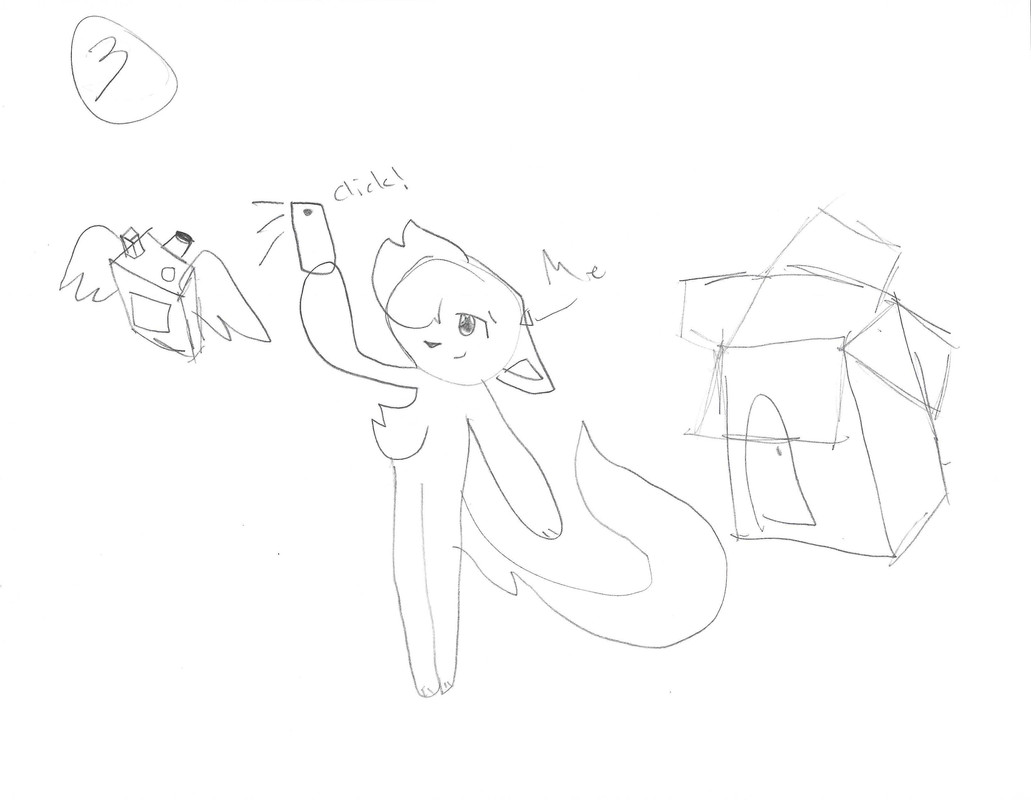 Caption:
Yamyam_kat takes a selfie with a cell phone to show that she has arrived safely in the present. Her hangout cube is behind her, while a flying camera hovers ahead.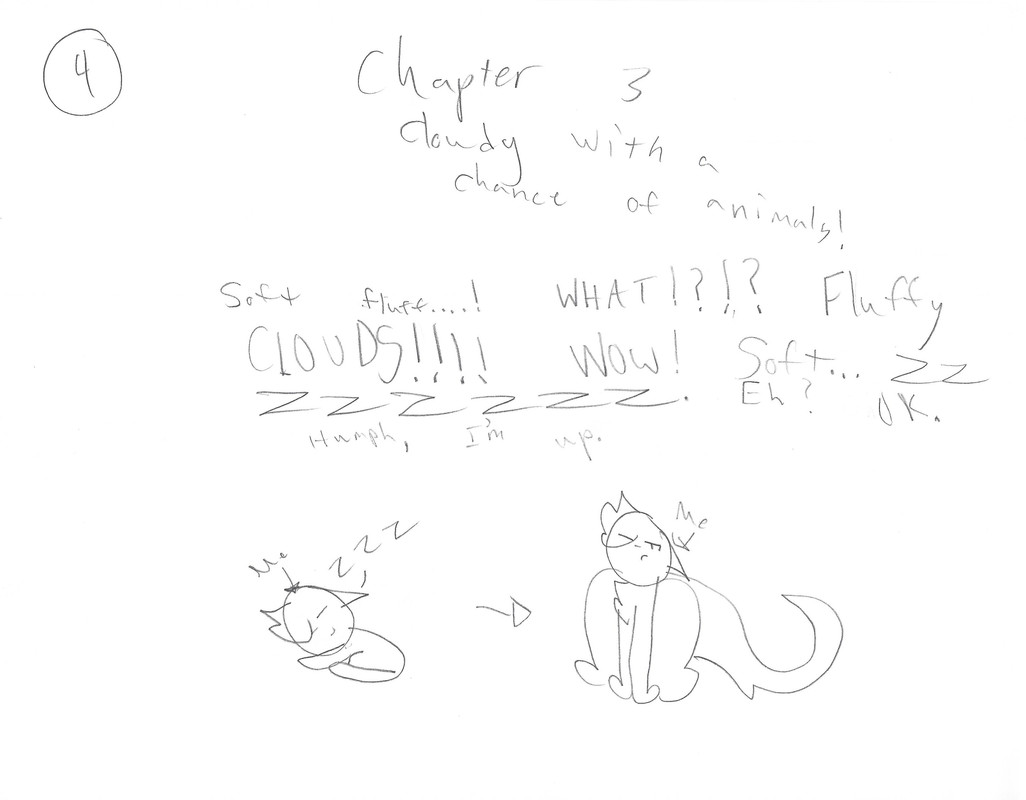 Caption:
In this new place in the corner of her imagination brought to her attention by another button in her 'hangout cube,' our narrator has dozed off in the clouds. Something wakes her, and she appears all the grumpier for it.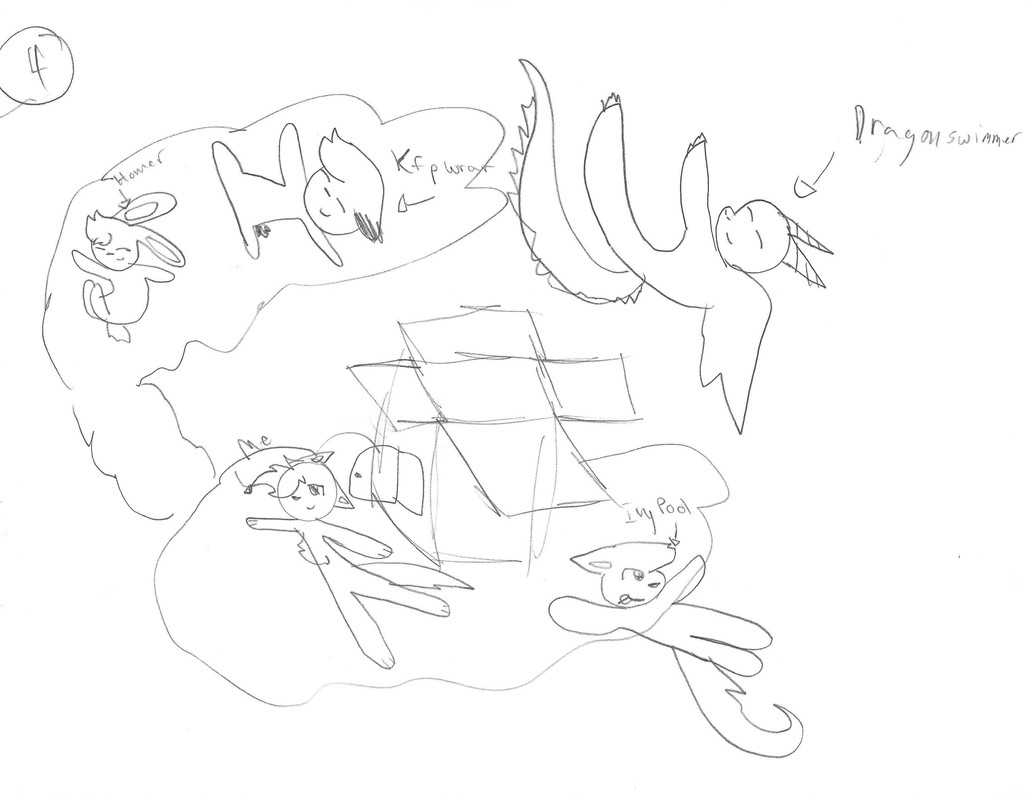 Caption:
Top left, we see Kfp_rawr and Homer resting on a cloud. They appear to be content. At the top right, Dragonswimmer flies through the air, somersaulting as she goes. Below, Ivy_pool lounges on another cloud, and waves to the Earth below, while Yamyam_kat dances on a cloud next to the resting 'hangout cube.'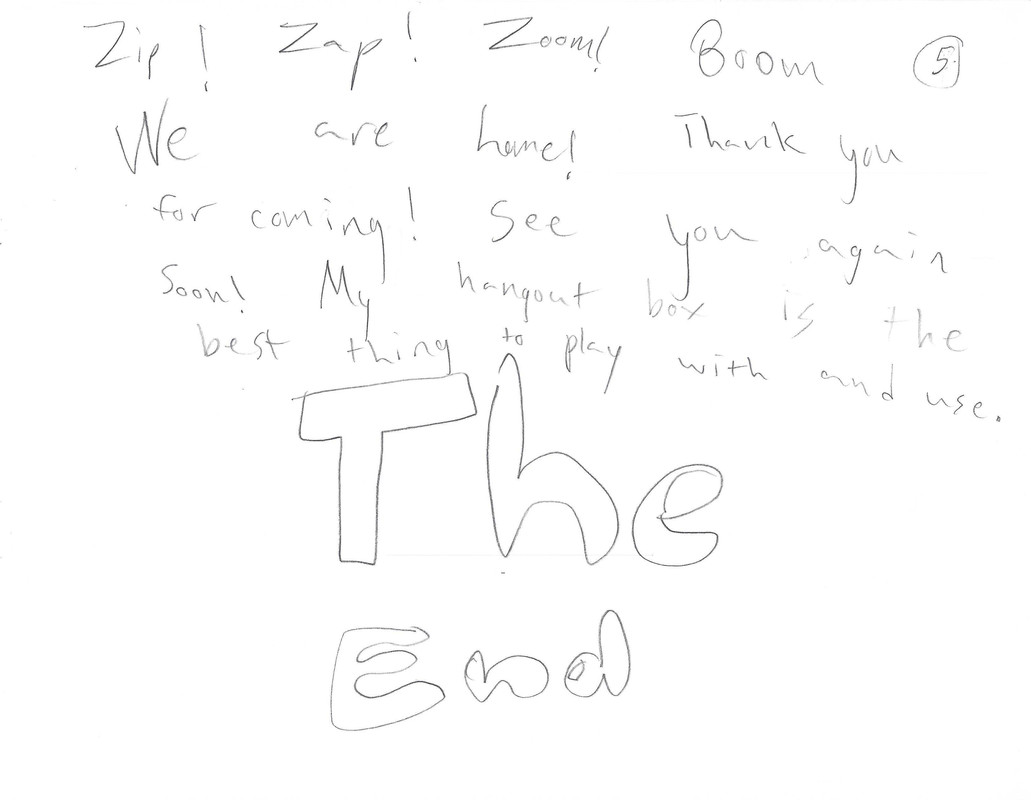 Thank you for reading.